Red clover contains isoflavones, which function as plant hormones. Designed for women. Red clover is a plant of the pea family.
DESCRIPTION: Raab Vitalfood BIO Red clover 80 capsules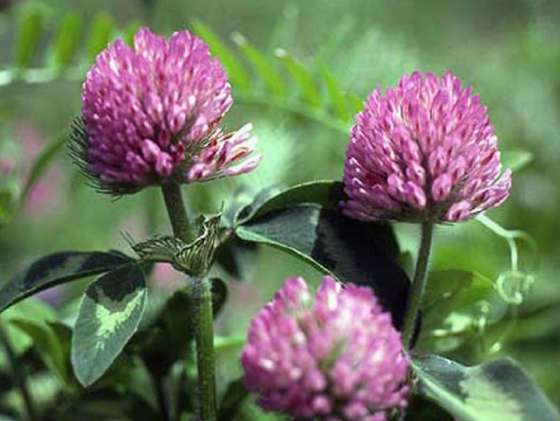 Red clover (clover) is a well known healing herbs for centuries. Red clover is used as a dietary supplement for its high content of natural compounds called
phytoestrogens
. These structures are similar to female sex hormones, they are also known as
isoflavones
. These phytoestrogens in the diet occur very rarely and in small quantities.
Exhibit estrogenic activity, and are associated with a number of positive health effects during menopause.
Like menopause refers to the time period of transition between women of childbearing age and the beginning of Senia. It is the period between the 45th to 60th year of life.
Red clover contains compounds called phytoestrogens, which are very similar to human sex hormones. Of these, the most effective are isoflavones. On the market in the form of supplements: soy, black cohosh, lentils, flax and red clover isoflavones. Soy, black cohosh, lentils, flax have in them only 2 isoflavones have also weaker and slower reactions. Red clover contains 4 isoflavones, which are more palatable, but also more effective. This is an important positive influence of extract of red clover for prevention of breast cancer, osteoporosis and cardiovascular disease. For even greater effect of isoflavones is beneficial in menopause is combined with vitamin D, calcium and magnesium.
EFFECTS: Raab Vitalfood BIO Red clover 80 capsules
For more information about this product, unfortunately, we can not be disclosed because it would be in accordance with Regulation of the European Parliament and Council Regulation (EC) no. 1924/2006 health claims that can not be disclosed. We publish only those health claims that have been approved by the European Commission. As an example, approved a health claim for the water we claim: "It contributes to the maintenance of normal physical and cognitive functions, contributes to the maintenance of normal regulation of body temperature." Wherein the water must also be consumer is informed that in order to obtain the claimed effect must provide a daily intake of at least 2 liters of water. Let every visitor of which draw their own conclusion.
USE: Raab Vitalfood BIO Red clover 80 capsules
Recommended dosage:
2 x 1 capsule per day, swallow swallowed whole with water, tea, etc.
WARING: Raab Vitalfood BIO Red clover 80 capsules
Not intended for children. Do not exceed the recommended daily dose. This product is not intended as a substitute for a varied diet and healthy lifestyle. Keep out of the reach of small children. Store in a cool, dry place out of direct sunlight in a well-sealed container.
PACKAGING: Raab Vitalfood BIO Red clover 80 capsules
80 capsules in 550 mg
Ingredients - Raab Vitalfood BIO Red clover 80 capsules
INGREDIENTS: Raab Vitalfood BIO Red clover 80 capsules
78% extract of red clover (Trifolium pratense) *, the capsule shell: hydroxypropyl methylcellulose, maltodextrin.*
* Ingredients from organic farming
The daily dose is 2 capsules containing 72 mg of isoflavones.