Klas Coffee Reishi is innovative coffee which will give you a pleasant experience that is needed for a proper start to the day.
DESCRIPTION: Klas Coffee Reishi 30 bags
Full name Ganoderma lucidum, better known as the "Reis" are among the oldest drugs in traditional Chinese medicine. Also called mushroom of immortality, and therefore has always been used to prolong life. In fact, the body contains many beneficial substances which contribute to improve the immunity of auxiliary treatment of cancer and help with memory problems. It is also a great sponge antioxidant, anti-inflammatory, lowers cholesterol, used to prevent thrombosis formation and is helpful in the treatment of asthma.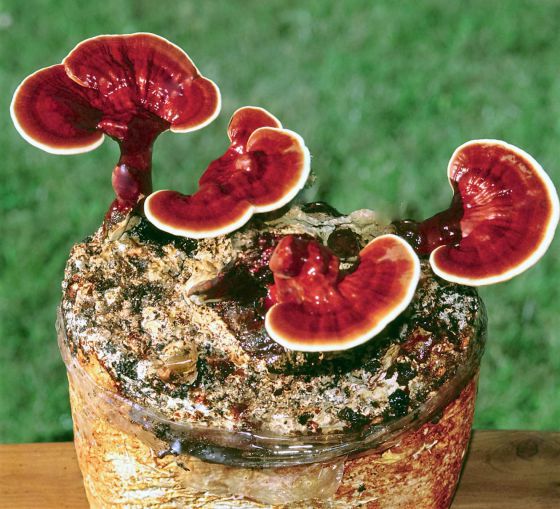 In nature
it grows reishi (Ganoderma) on rotting tree trunks and stumps, particularly in coastal areas Chine.
Reishi
(ganoderma) occurs in six color variants, most of which is grown red. At present, the absolute majority of the world's production comes from the Reishi mushroom plantations (eg. 99% in Japan, China similarly). For its ability to regenerate body functions and activate it to use Russian Cosmonauts sherpas or at high altitudes.
EFFECTS: Klas Coffee Reishi 30 bags
For more information about this product, unfortunately, we can not be disclosed because it would be in accordance with Regulation of the European Parliament and Council Regulation (EC) no. 1924/2006 health claims that can not be disclosed. We publish only those health claims that have been approved by the European Commission. As an example, approved a health claim for the water we claim: "It contributes to the maintenance of normal physical and cognitive functions, contributes to the maintenance of normal regulation of body temperature." Wherein the water must also be consumer is informed that in order to obtain the claimed effect must provide a daily intake of at least 2 liters of water. Let every visitor of which draw their own conclusion.
USE: Klas Coffee Reishi 30 bags
Pour contents of bag into a cup and pour hot water (150 ml, 70 °C) and mix well.
WARNING: Klas Coffee Reishi 30 bags
Store in a dry, cool place. Do not expose to excessive light and heat. Keep out of reach of children. Do not exceed the recommended daily dose. There is no substitute for a varied and balanced diet. Not suitable for pregnant and breastfeeding women. No artificial flavor enhancers or preservatives. It does not contain genetically modified ingredients. Not exposed to ionizing radiation. It does not contain gluten.
PACKAGING: Klas Coffee Reishi 30 bags
30 sachets x 2,5 g
Ingredients - Klas Coffee Reishi 30 bags - instant coffee
INGREDIENTS: Klas Coffee Reishi 30 bags
92% instant coffee (Brazilian techniques, spray drying), 8% Reishi - extract 8:1 to 20% polysaccharides