Just nahrin Lemon pepper in a root is a special mixture designed to flavor fish and seafood dishes. The flavor of the spices is peppery sour, it is also suitable for oriental meals, poultry - spices before heat treatment, sauces of herbs, soups, salad dressings.
DESCRIPTION: Just nahrin Lemon pepper in roots 60 g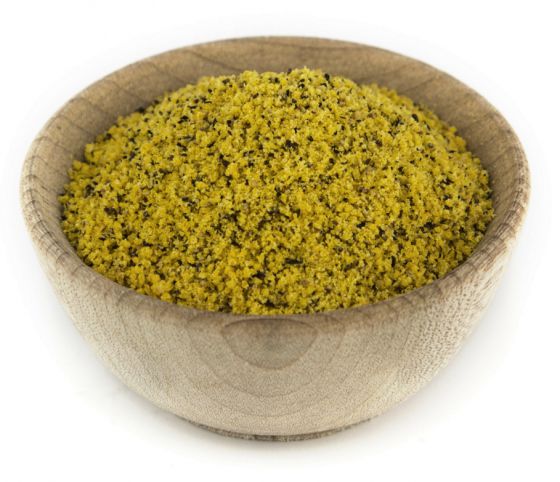 Nahrin
company brings you a range of spices from the
finest raw materials
from all over the world of the most varied and full of flavors. In addition to quality sources, Nahrin spices also have a
lower salt content
than regular spice mixtures. Due to the
added herbs, vegetable extracts and other spices
, the spices will give your food a
delicate touch to the end without too much salt!
Some herbs and types of spices contained in the spice mixtures of Nahrin can have a positive effect on the overall functioning of the organism and organs, so it's not only a handy addition to your kitchen but also effective! Individual types of spice can be combined, but they are concentrated, so be careful to do so.
Top Nahrin Lemon Pepper 60 g you can use in preparing all kinds of fish and seafood, for its "pepper-sour" taste it can be used for Oriental food, white meat or vegetable soups. For best results, use spices before cooking. Customers who have bought lemon peppers can not make a combination with dill or tomato sauce or flavor yoghurt salad dressing. Try this unique, spicy and original mixture of spices and fall in love with it as well as customers in front of you!
EFFECTS: Just Nahrin Lemon pepper in the root 60 g
Unfortunately, we can not say more about this product because it would be a health claim that we can not publish under Regulation (EC) No 1924/2006 of the European Parliament and of the Council. We can only publish health claims that have been approved by the European Commission. As an example of an approved health claim, we state the water claim: "It helps maintain normal body and recognition functions, helps maintain normal body temperature regulation." In the case of water, the consumer must at the same time be informed that in order to achieve the claimed effect, a daily supply of at least 2 liters of water must be ensured. Let every site visitor draw their own conclusions.
USE: Just nahrin Lemon pepper in roots 60 g
The meat is recommended to spice up before cooking.
WARNING: Just Nahrin Lemon pepper in roots 60 g
Store in a dry and cool place. Protect from frost and direct sunlight. Not for children. The product is not intended as a substitute for a varied diet. The manufacturer is not liable for damages resulting from improper use or storage.
PACKAGING: Just Nahrin Lemon pepper in roots 60 g
60 g
Ingredients - Just nahrin Lemon pepper in roots 60 g
INGREDIENTS: Just nahrin Lemon pepper in roots 60 g
Salt, 32% pepper, citric acid, flavor enhancer (sodium glutamate), potato starch, pepper, rapeseed oil, onion, leek extract, celery extract, natural lemon flavor