Dědek kořenář Milk thistle Mash OKH (OO-KH, OOKH) helps gallbladder disease, bile ducts releases clogged. Contributes to the overall health of the liver and gallbladder. The ideal package.
DESCRIPTION: Dědek kořenář Milk thistle Mash OKH (OO-KH, OOKH) 950 ml
Milk thistle has been known for many years. Currently, we use only fruit - the seeds of milk thistle. Previously, the use of the leaves and roots. Products it can be used as prevention and as a supportive agent in the fight against many diseases. Milk thistle containing sugars, fats and proteins, in addition also the amino acids, essential oils and bitter substances. This complex is otherwise irreplaceable.

OKH (OO-KH, OOKH) - Milk thistle Mash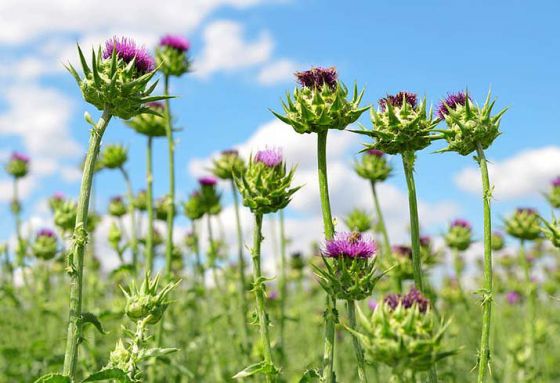 Milk thistle is suitable for interior and exterior use. It is used root, fetus and leaf. Leaves are collected and dried in the spring (no later than June), the root we use only dug in the spring, not later. Allow the rinsed fruits to dry and then remove the fluff. The leaves of the thistle are collected before the flowering, but only nice, healthy and deeply colored.

EFFECTS: Dědek kořenář Milk thistle Mash OKH (OO-KH, OOKH) 950 ml
For more information about this product, unfortunately, we can not be disclosed because it would be in accordance with Regulation of the European Parliament and Council Regulation (EC) no. 1924/2006 health claims that can not be disclosed. We publish only those health claims that have been approved by the European Commission. As an example, approved a health claim for the water we claim: "It contributes to the maintenance of normal physical and cognitive functions, contributes to the maintenance of normal regulation of body temperature." Wherein the water must also be consumer is informed that in order to obtain the claimed effect must provide a daily intake of at least 2 liters of water. Let every visitor of which draw their own conclusion.
USE: Dědek kořenář Milk thistle Mash OKH (OO-KH, OOKH) 950 ml
1 teaspoon to 1 tablespoon 2-3 times a day with food or in food. For people who have clogged bile ducts recommend 2-3x daily with meals 1/2-1 tablespoon
WARNING: Dědek kořenář Milk thistle Mash OKH (OO-KH, OOKH) 950 ml
Do not exceed the recommended daily dose. This product has been marketed as a dietary supplement. It is not a cure and does not have an approved medicinal properties. It is not intended as a substitute for a varied diet. Not for children under 3 years of age. Keep out of reach of children. Store in a dry, dark and cool. We should be kept at a temperature of 5-25 °C.
PACKAGING: Dědek kořenář Milk thistle Mash OKH (OO-KH, OOKH) 950 ml
950 ml
Ingredients - Dědek kořenář Milk thistle Mash OKH (OO-KH, OOKH) 950 ml (Silybum marianum)
INGREDIENTS: Dědek kořenář Milk thistle Mash OKH (OO-KH, OOKH) 950 ml
sunflower oil, herb extract from milk thistle, burdock, Benedict, lovage, calamus, fennel and hops