MycoMedica Oyster mushroom extract is about 20 times more concentrated than the dried powder of the hub. The content of polysacharides in the extract MycoMedica Oyster mushroom is at least 30%.
DESCRIPTION: MycoMedica Oyster mushroom 90 capsules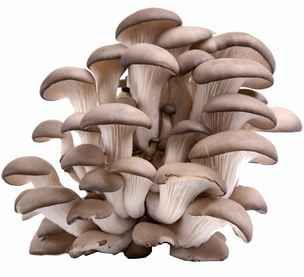 Oyster mushroom
is widespread throughout the world lupenitá wood mushroom with a gray fleshy hats. Oyster mushroom usually grows in rich, a step above the other aligned bunches on wood living and dead trees, especially on stumps. He has been praised by a Chinese poem from the Song Dynasty in the 5th century AD.
It is an excellent sponge not only for use in gastronomy, but mainly for therapeutic effects. It contains many useful substances for the organism as e.g. enzymes, amino acids, vitamins, fatty acids and especially polysaccharides. People are using it primarily when a weakened immune system, cancer, high cholesterol and eczema.
EFFECTS: MycoMedica Oyster mushroom 90 capsules
For more information about this product, unfortunately we can not mention, because it would be in accordance with Regulation of the European Parliament and Council Regulation (EC) no. 1924/2006 health claims that can not be disclosed. We can publish only those health claims that have been approved by the European Commission. As an example, authorized health claim might claim for water: "It contributes to the maintenance of normal physical and cognitive functions, contributes to the maintenance of normal regulation of body temperature." Wherein the water must also be consumer is informed that in order to achieve the claimed effect is necessary to ensure a daily intake of at least 2 liters of water. Let each visitor of this draw their own conclusions.
USE: MycoMedica Oyster mushroom 90 capsules
1-3 capsules per day (children 3 to 15 years: 1 capsule per day)
WARNING: MycoMedica Oyster mushroom 90 capsules
The product is not intended for children under 3 years of age, pregnant and nursing women. Do not exceed the recommended daily dose. Keep out of the reach of children. The product is not a substitute for a varied diet. Observe a healthy lifestyle. Does not contain ephedrine, caffeine, gluten, preservatives, coloring agents or sugar. Store in a dark, dry place.
PACKAGING: MycoMedica Oyster mushroom 90 capsules
90 capsules