Combination of hemp and aloe vera has healing soothing and regenerating effect.
Shea Butter is suitable for sensitive children's skin.
The soap with hemp oil is the right choice for On sensitive or irritated skin. Not only does it irritate the skin, but also relieves itching.
The hemp oil harmonizes the skin cells and balances the pH balance of the skin. It also helps to renew the natural protective film and thereby increases the skin's resistance to the harmful effects of the external environment. It contains a high proportion of vitamin E, which is an important antioxidant and protects the cell membranes from free radical damage. The hemp oil is hypoallergenic. It is therefore suitable for sensitive and eczema skin. Hemp oil helps especially with acne, atopic eczema or psoriasis. Not only is the skin condition improved, it also alleviates the itching. Hemp oil also helps in the treatment of burns and in wound healing.
Aloe vera was estimated already in ancient Egypt and in the national medicine of Central America as a medicinal plant.The juice gained from it was regarded as a beauty elixir. Until today is the cooling gel of the leaves considered an effective first aid by burns, skin abrasions, insect bites and sunglasses. When applied externally, it forms a protective film on the affected areas, which accelerates healing and reduces the risk of infection. Natural anti-inflammatory and antimicrobial effects support the growth of healthy cells.
Aloe vera Supports the natural defenses of the body. It belongs to the antioxidants and contributes to the protection of the cells against oxidative stress and the normal skin. Helps with mental and physical fatigue. Improves premenstrual comfort as well as comfort during menstruation. Most of those who like Aloe Vera say they feel better and also quieter without stress. Fine-tuned immune system is more likely to protect the body from external influences.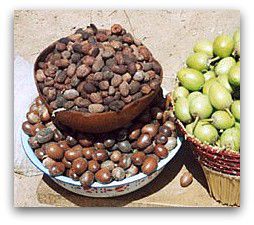 Sheabutter is won from the seeds of the African butter tree (Vitellaria paradoxa – Butyrospermum parkii – Arbre de Karité – Sheatree), called "tree of life" and for aborigines is holy. For millennia has been used for various purposes: Kitchen, skin protection, healing oil, religious anointings, soap, wood protection etc.
The Sheabutter gives the skin moisture, The African natives, however, very soon discovered their healing effects. Care for any irritated, damaged or injured skin. It is suitable for various forms of allergies, insect bites, sunglasses, or frostbite, cracked skin, after shaving and hair removal, zur Treatment of small wounds and abrasions etc. Treatment of small wounds and abrasions etc.Contains powerful antioxidant active ingredients. Stimulates the microcirculation of the skin cells and protects the skin from harmful influences Can also be used as conditioner for hair care.
EFFEKT: Zelená Země HEMP SOAP
– Aloe Vera 8 g
We regret that we can not provide further information about this product as it would be a breach of the Regulation of the European Parliament and Council No 1924/2006 Regulation (EC) No 1924/2006 on nutrition and health claims made on foods To be disclosed. We may only publish the health claims, which have been approved by the European Commission. As an example, we provide a health-related indication for the water: "It contributes to the maintenance of normal physical and cognitive functions, contributes to the maintenance of normal body temperature regulation." In the case of water, the consumer must also be informed that, in order to achieve the claimed effect, a daily intake of at least 2 liters of water must be made available. Let each visitor draw their own conclusions.
USE: Zelená Země HEMP SOAP
– Aloe Vera 8 g
Use whenever you like to wash your hands, body or gently washing your face and intimate hygiene. Use whenever you like to wash your hands, body or gently washing your face and intimate hygiene.Use whenever you like to wash your hands, body or gently washing your face and intimate hygiene.
PACKING: Zelená Země HEMP SOAP
– Aloe Vera 8 g
Cellophane bag
–
1 piece of soap