Cosmos Maitake is a unique product of pure nature. Maitake by Dr. Popov contains fungus Grifola fondos drying treatment, thereby retaining all of the active ingredient. Purely natural product.
DESCRIPTION: Cosmos Maitake (Grifola) 10 g - 60 capsules (Dr. Popov)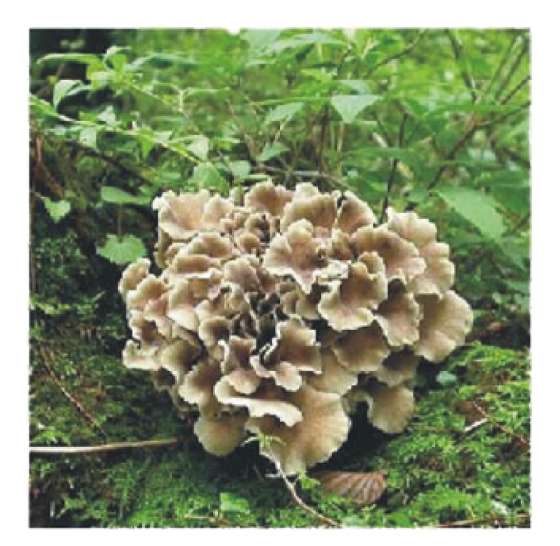 Cosmos Maitake contains only dried minced mushrooms in their natural form. Grifola is parasitic fungus whose fruiting body forms a large clump of conjoined many hats. It grows on the heels of trees and stumps, especially oaks. Maitake mushrooms Japanese name means dancing mushroom.

Found in nature, wild fungus is difficult, because the fungus was very expensive, so finding a place and concealing information about the location of was handed down from generation to generation. When finding a clump of mushrooms is said to have danced with joy, and of which it is said the Japanese name maitake mushrooms, which translates as "dancing mushroom". It is highly prized in traditional Chinese and Japanese herbal medicine. Researches "In vitro" indicate the possible characteristics of reactions against metastasis. It also contains vitamins and minerals, as well as polysaccharides, proteoglycans (D-fraction having anti-cancer activity), phenols, flavonoids, unsaturated fatty acids. Notable for its high content of ergosterol, precursor of vitamin D.
Supplements are specific food categories. Generally they contain a broad range of vitamins, minerals and other substances. Dietary supplements used in the event that our body does not receive enough of these substances from their diet or as a precaution.
EFFECTS: Cosmos Maitake (Grifola) 10 g - 60 capsules (Dr. Popov)
For more information about this product, unfortunately, we can not be disclosed because it would be in accordance with Regulation of the European Parliament and Council Regulation (EC) no. 1924/2006 health claims that can not be disclosed. We publish only those health claims that have been approved by the European Commission. As an example, approved a health claim for the water we claim: "It contributes to the maintenance of normal physical and cognitive functions, contributes to the maintenance of normal regulation of body temperature." Wherein the water must also be consumer is informed that in order to obtain the claimed effect must provide a daily intake of at least 2 liters of water. Let every visitor of which draw their own conclusion.
USE: Cosmos Maitake (Grifola) 10 g - 60 capsules (Dr. Popov)
Dosage: 1-2 capsules daily, gelatin capsules are swallowed whole
WARNING: Cosmos Maitake (Grifola) 10 g - 60 capsules (Dr. Popov)
Store in a dry, cool place. Do not expose to excessive light and heat. Keep out of reach of children. Do not exceed the recommended daily dose. There is no substitute for a varied and balanced diet. Not suitable for pregnant and breastfeeding women. No artificial flavor enhancers or preservatives. In its natural form, is not fermented or chemically modified. It does not contain genetically modified ingredients. Not exposed to ionizing radiation. It does not contain gluten.
PACKAGING: Cosmos Maitake (Grifola) 10 g - 60 capsules (Dr. Popov)
60 capsules
Ingredients - Cosmos Maitake (Grifola) 10 g - 60 capsules (Dr. Popov)
INGREDIENTS: Cosmos Maitake (Grifola) 10 g - 60 capsules (Dr. Popov)
dried minced mushrooms Grifola, gelatin capsule