Cosmos Polyporus contains only part of the ground dried mushrooms Polyporus. Dietary Supplement from Dr. Popov contains Polyporus fungus that is part of traditional Chinese medicine for its high content of active ingredients.
DESCRIPTION: Cosmos Polyporus 17,2 g - 60 capsules (Dr. Popov)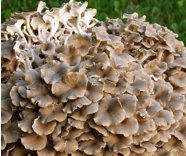 Cosmos Polyporus by Dr. Popov is a purely natural product containing the purest raw material. Polyporus is a rare fungus with wide use.

Polyporus contains very many active ingredients, it is e.g. vitamins and minerals, polysaccharides - beta glucans, ergosterol - polyporusterony A-E ergostenony, steroids, anthraquinones, nucleosides, D-mannitol.

Polyporus contained in a pure natural product from Dr. Popova growing warm deciduous forests and mixed forests with tree roots and stumps. Fruiting body composed of dozens of caps with a diameter of 1-4 cm, growing from a common stalk, up to 40 cm wide and consists of a manifold with branching šupinkaté caps. Thanks sclerotia, which creates, grows every year to the same place for decades.
EFFECTS: Cosmos Polyporus 17,2 g - 60 capsules (Dr. Popov)
For more information about this product, unfortunately, we can not be disclosed because it would be in accordance with Regulation of the European Parliament and Council Regulation (EC) no. 1924/2006 health claims that can not be disclosed. We publish only those health claims that have been approved by the European Commission. As an example, approved a health claim for the water we claim: "It contributes to the maintenance of normal physical and cognitive functions, contributes to the maintenance of normal regulation of body temperature." Wherein the water must also be consumer is informed that in order to obtain the claimed effect must provide a daily intake of at least 2 liters of water. Let every visitor of which draw their own conclusion.
USE: Cosmos Polyporus 17,2 g - 60 capsules (Dr. Popov)
Dosage: 1-2 capsules daily, gelatin capsules should be swallowed
WARNING: Cosmos Polyporus 17,2 g - 60 capsules (Dr. Popov)
Store in a dry, cool place. Do not expose to excessive light and heat. Keep out of reach of children. Do not exceed the recommended daily dose. There is no substitute for a varied and balanced diet. Not suitable for pregnant and breastfeeding women. No artificial flavor enhancers or preservatives. In its natural form, is not fermented or chemically modified. It does not contain genetically modified ingredients. Not exposed to ionizing radiation. It does not contain gluten.
PACKAGING: Cosmos Polyporus 17,2 g - 60 capsules (Dr. Popov)s
60 capsules
Ingredients - Cosmos Polyporus 17,2 g - 60 capsules (Dr. Popov)
INGREDIENTS: Cosmos Polyporus 17,2 g - 60 capsules (Dr. Popov)
dried minced mushrooms Polyporus